There will be something for everyone, whether you like milk, dark, white, praline or ganache chocolate...
Will you opt for the inevitable and traditional Easter eggs, or will you prefer more original creations?
La Maison du Chocolat
Founded in 1977, La Maison du Chocolat is a true reference, being the first Parisian boutique entirely dedicated to chocolate.
35 international chocolatiers share their unique know-how every day, but this year, it's the Chef Chocolatier, Nicolas Cloiseau, who unveils his sublime "Easter Flight" collection with his Easter Feather Egg and its crispy chicks.
This giant egg of 45 cm and 6 kilos is available in a limited edition of ten copies only.
Let yourself be captivated by the numerous feathers glued one by one by hand in a precise order. You will discover that they are made with an innovative technique that requires a whole week of work and 15 different chocolate models.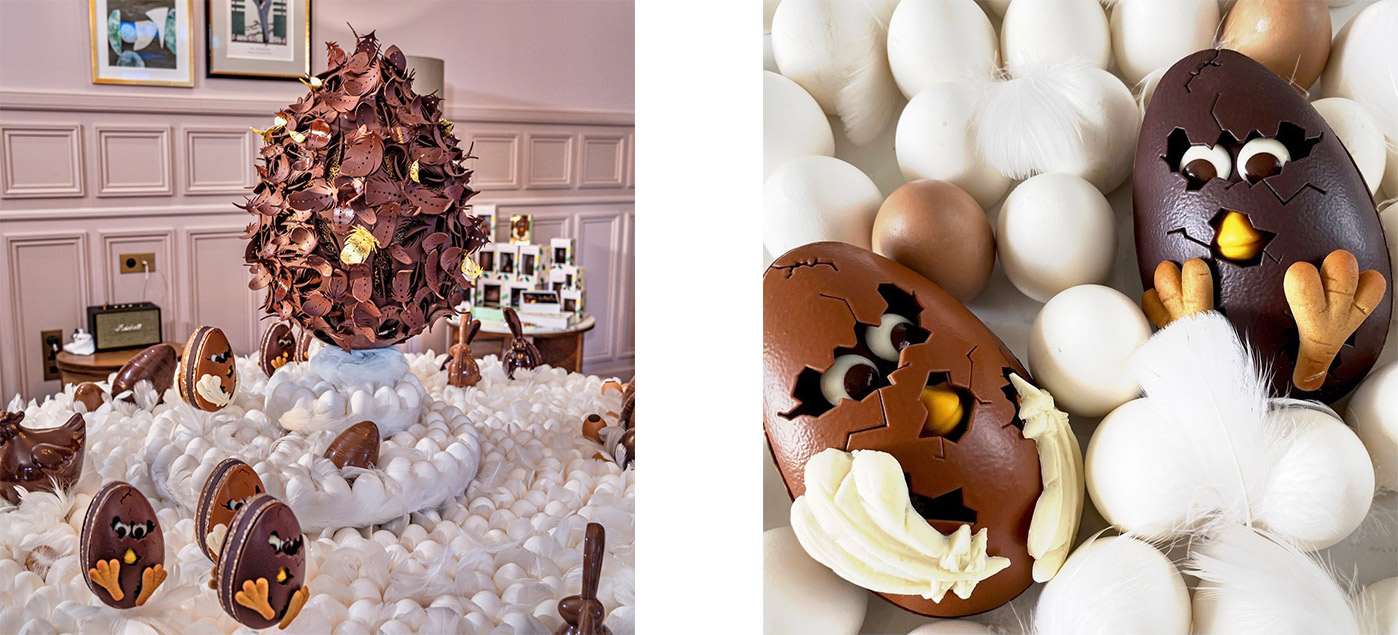 Pierre Marcolini
Elected in October 2020 as the best master chocolatier in the world, he travels the world in search of the most original flavors. This year, he presents Bird Bunny and his egg-shaped praline seeds, the Creativ'Eggs. The little half-bird, half-rabbit character is presented in a pretty box accompanied by bells, birds, and chocolate bunnies that will make everyone dream.
Other must-have creations of the Easter 2022 collection are the Egg'ceptionals, available in three different recipes (white, milk, and dark chocolate), placed on a nest of chocolate straw. You won't be able to resist this gourmet collection that combines the pleasure of taste with that of imagination.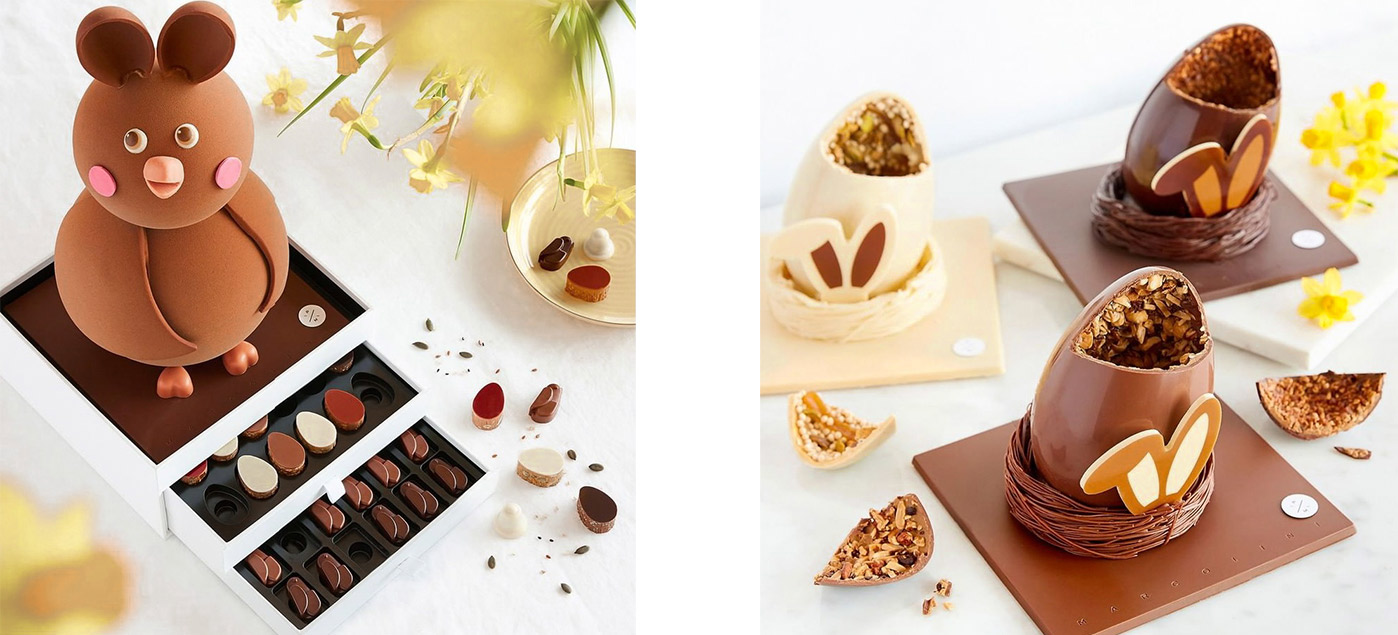 Nina Métayer
With the Easter collection of pastry chef Nina Métayer, we find an elegance that will not leave you indifferent!
Her main creation, Le Rameau, available in dark or milk chocolate, enchants us with its sparkling decoration and its beautiful foliage of olive branches. And if the refined details of the exterior have captured your attention, wait until you discover the interior, which is full of treats... But we won't reveal any more than that. It will be up to you to discover them!
His second creation, in collaboration with Kalios, will also make you fall in love. Discover the entremets L'Olivier, a chocolate pastry in the shape of an olive branch with a cocoa tile base and a cocoa cookie with Kalios olive oil. A real treat for our taste buds!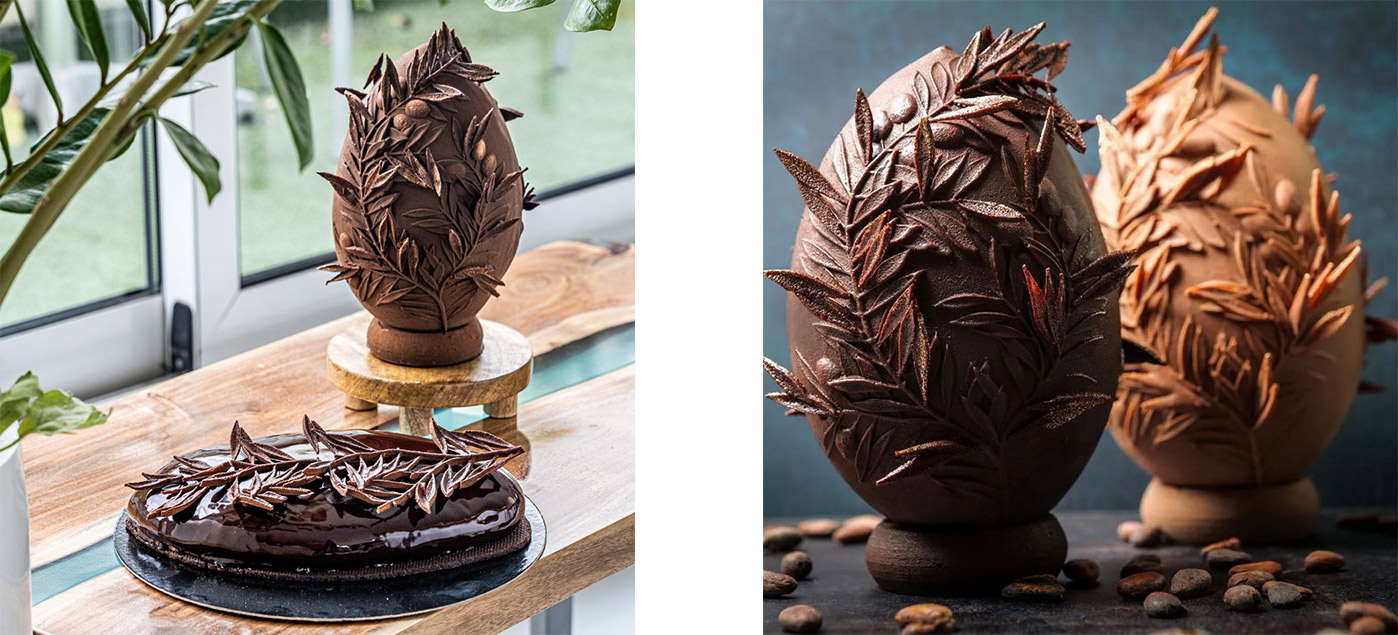 Maison Lenôtre
Now, make way for cuteness and let yourself be amazed by the fairy-tale universe of the Maison Lenôtre, which presents a collection called "Les explorateur en forêt". 
The house's chocolatiers will take you to discover an enchanted nature with its fruits and animals, as original as charming. From the fawn to the fox, you will love all these animals in dark or milk chocolate bars with a hazelnut praline heart. Your children too, they will find all this impossible to resist!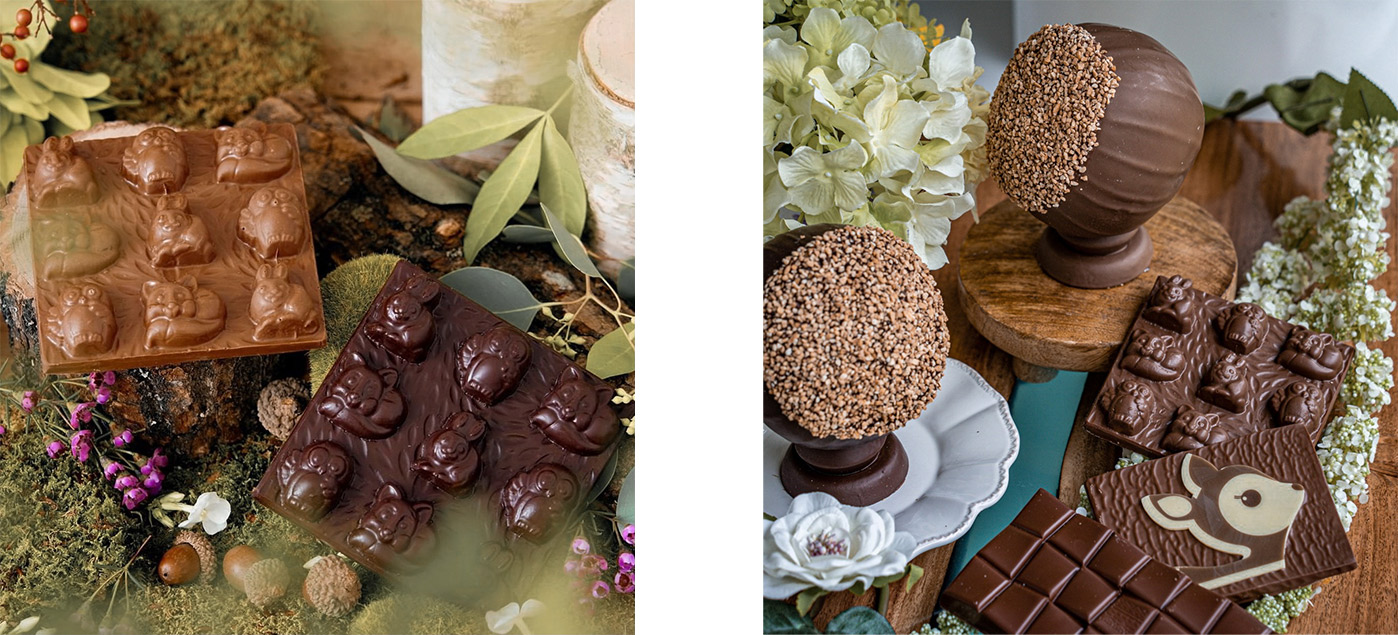 Publicisdrugstore
Last but not least, in terms of beauty and originality, we present you the floral chocolate egg from Publicisdrugstore. A true emblem of spring, with not one, not two, but three eggs in one! Tasty surprises, one after the other...
The first egg, covered with a few delicate daisies, is made from dark chocolate and hides inside a second white chocolate egg that contains a mini egg coated in gold. An elegant and refined creation to enjoy with the whole family on Easter Day!